BadgePlus Inkjet Printable Cards, PVC Plastic Cards
BadgePlus is one of the largest suppliers of oversized inkjet and PVC cards. We've served major leading events and organizations for over 25 years. Thanks to our high-volume business, we offer the best quality cards and the lowest prices in the industry. Call us for details and prices.
Our cards are designed to be printed using a SwiftColor inkjet printer. A special ink-receptive coating allows the single-pass print head technology to produce stunning results. The result: our cards are smudge and fade-resistant and can be customized with additional security features such as UV hot-stamped UHF holograms.
Why buy BadgePlus Inkjet Printable ID and Event Cards?
We've been a supplier of professional quality Inkjet printable and PVC cards for nearly 30 years. Our printable cards are so durable that some attendees and fans consider them collectible memorabilia. In addition, our printable cards are cost-effective and available in various sizes and shapes. Contact us for the lowest pricing in the industry. We produce security ID and attendee event cards for some of the most well-known activities and events in the world.
Five advantages of using BadgePlus printable ID cards:
Affordable: cards are cost-effective for organizations producing small to medium quantities.
Flexible Use: cards can be customized quickly and easily to include individual names, photos, or other information.
High-quality print: Inkjet printing can produce high-quality images with rich colors and fine details.
Easy to use: cards are easily accessible because they're printed with a standard inkjet printing process.
Durable: A special coating on BadgePlus inkjet printable ID cards makes them resistant to smudging and fading, ensuring they will last for a long time.
Ordering PVC Oversized Cards and Inkjet Printable Cards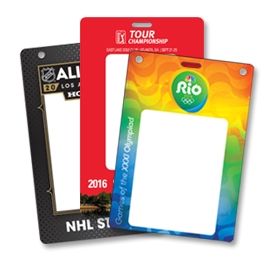 Oversized PVC Cards can be customized with your branding. Ready for on-site/on-demand printing. All sizes are available. Call us about custom sizes, specifications, special features and sizes.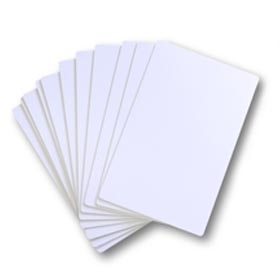 Inkjet Printable Cards are available blank or pre-printed with your graphics and branding. All sizes are available. Call us about custom features and dimensions.
We are proud to service some of the biggest and most notable events in the world.